Lately, I have been really into chronographs. My taste definitely drifts towards time and date pieces, but I'm guessing this change in interest is indicative of some desire for some horological complication in my life (in the best way possible). While not intentional, most of my interest in watches has drifted toward major brands. I am sure it is part me being a sucker for history, and a testament to the strength of marketing dollars.
This interest in chronographs has taken my attention more towards smaller brands/micro-brands. The combination of looking for things that are relatively affordable and also available in smaller sizes has pushed my attention here. Of course, there are sub-40mm chronographs out there, but many new smaller chronographs that are available come from brands charging north of $5,000 for their watches. I am sure they are worth it, but the options are also slim. Turning my attention to smaller brands has yielded some interesting finds, and here are a few of my favorites.
First is the MAEN Skymaster, a 38mm three register chronograph with a rotating 12-hour bezel. Featuring an ETA 2894-2 automatic movement, steel case, hesalite crystal and leather strap standard (sapphire and bracelet are optional extras) for the price of around $615 dollars at the time of writing (759.20 Euros, including VAT, US pricing does not include VAT). While the chronograph is a module based movement (meaning the chronograph function is a module placed on top of a base movement. The downside is that this means servicing is expensive/cost inhibitive), it is hard to argue with the price, and the watch should still serve you well for years to come. While the bracelet and sapphire crystal are surely popular choices, I think I would go for the strap and hesalite crystal for the full vintage vibe, plus it keeps the cost lower. While it is currently sold out, my choice is the Thunder Grey variation, but there is also black, inverted panda (black with white sub dials), panda (white with black sub dials), and midnight blue.
Next is a watch from the brand Guinand. A 150 year old German watch brand, probably most famous for their association with Sinn watches, and in 1995, Helmut Sinn took over shares of Guinand, taking control of the company. Still based in Frankfurt, the brand continues many of Helmut Sinn's designs, and offers a direct sales model. While they also offer some smaller diameter watches, my choice comes from their flagship series of pilot chronographs. From the Series 40 line, I would pick the Model 40.50.08L with a Safteybelt strap and an SFL stainless steel bezel. The watch features the crown and pushers on the left hand side (because why not), a Valjoux 7750/SW500 (according to their website), a smattering of case and movement technologies to increase durability, day-date indication, three register chronograph, sapphire crystal, and a matte finish. The case measures 40.6mm in diameter, and 48.4mm lug to lug. While a little larger, it is still very reasonable. The watch costs $1688.51 (1435.26 Euros excluding VAT) with the options I have listed. The great thing about their website, and especially these models, is that there are a host of options that allow you to customize the watch to your liking. I think you would be hard pressed to not find a combination that would be to your liking, unless you cannot stand pilot chronographs.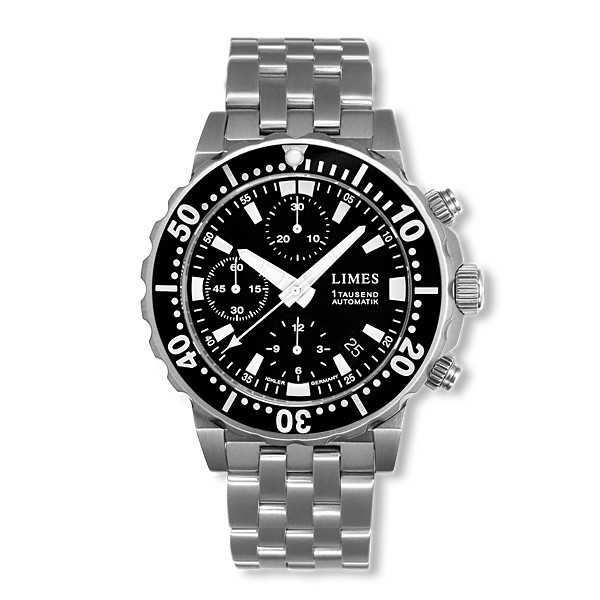 I have had the fortune of seeing Limes' Endurance GMT before, but now I want to feature their Endurance Chronograph. The biggest watch here at 41.5mm wide, 50mm lug to lug, and 15.5mm thick, it is at the top end of what I'd like to wear. That being said, the lugs curve down significantly, so the watch stays planted on the wrist. The watch features a sapphire crystal, a Valjoux 7750 elaboré grade movement, and 100 ATM of water resistance. If you would still worry about the durability of your watch while wearing this, I would suggest a G-Shock. The watch is available with a bracelet or rubberized leather strap, and a black or orange dial. I could go either way on the strap/bracelet, but definitely black dial for me. I would also be curious to see if it would be possible to have their Neptun bezel instead (a stainless steel dive bezel). The Limes Endurance Chronograph costs $1927.36 (1630.25 Euros excluding VAT).

The final watch I would like to mention is from Nivada Grenchen. A resurrected brand started in 1926, but could no longer survive in the quartz crisis in the 1980's, the brand has come back with two models, the Antarctic and the Chronomaster Aviator Sea Diver (featured here). The watch is available in both automatic and manual winding options, with a smattering of dial, strap and bracelet options. They also offer two different logos, one which seems to be the older style straight text logo, and a late-60's/ early 70's stylized logo. My choice out of the line would be the manually wound, oyster bracelet, black dial with white luminous and with the straight text logo. This watch features a two register chronograph (measuring only 30 minutes instead of 12 hours), a rotating dive bezel, a Sellita SW510 M BH B, sapphire crystal, and 10 atm of water resistance. The watch measures 38.3mm in diameter, 13.75 thick, 46.5 lug to lug, and a 20mm lug width. What is also cool about the bracelet, is that they brought back an expandable oyster bracelet design, similar to old oyster bracelets from the 50's and 60's. Of the three, this watch is the most expensive, coming in at $1955 USD. While still no small sum, still a very good value for a mechanical chronograph, and a very cool one at that. Overall, I really enjoy what they're doing. I do wish they would offer a three register version, as well as a version with a date. While some may moan and groan about the date, there is historical precedent, as they once offered a version of this watch with a date at 12 o'clock.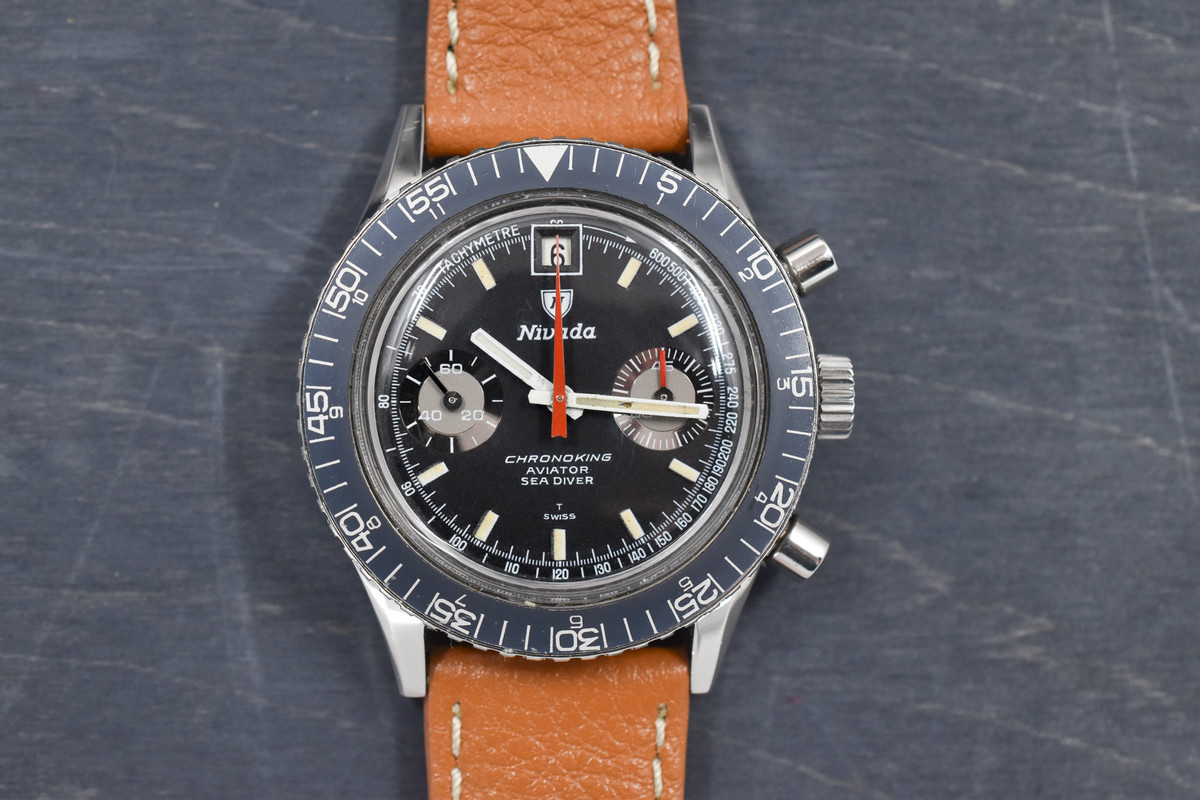 From bigpoppa822 on WatchUSeek.com
If you would like to see more about these watches, you can check out MAEN, Guinand, Limes and Nivada Grenchen at their websites.
Cheers,
Don